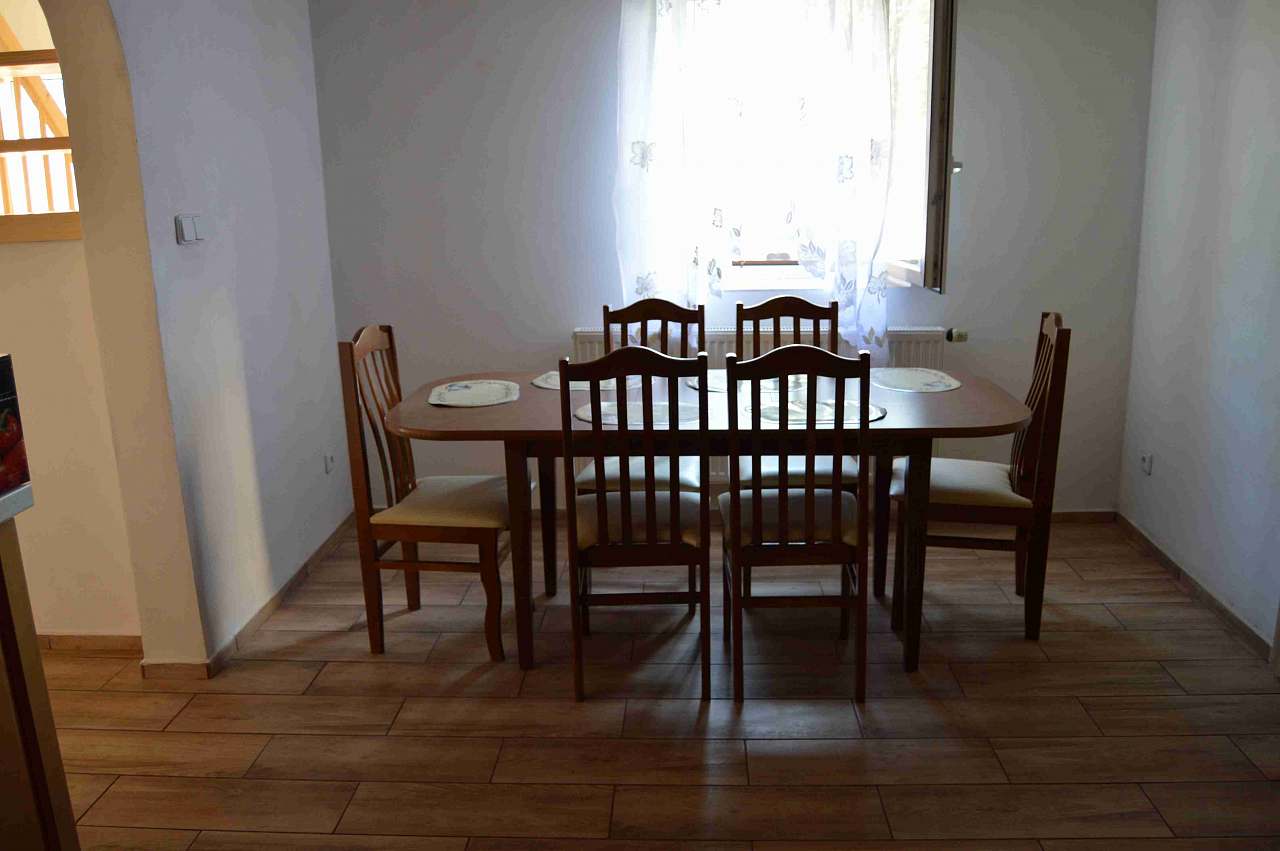 We would like to welcome you in our newly renovated cottage on the outskirts of the village of Police overlooking the local castle, near the castle Bítov and Vranovská dam, which offers accommodation for 9 people
The whole building is covered by WiFi signal
The cottage is on an enclosed fenced plot, which offers complete privacy
Pets can be taken with you and are already included
You can cook in the fully equipped kitchen, which has a corner kitchen fully equipped with utensils, microwave, refrigerator, ceramic hob with built-in oven, dishwasher and kettle.
The spacious living room is dominated by a fireplace, which you can heat up in the colder season
It is connected to radiators and reliably heats the whole cottage
However, the building can also be heated by gas
The living room has two French windows with access to the garden and the pergola
The ground floor also has a bathroom with bath, shower, toilet and washing machine and one bedroom with double bed and sofa bed, cot available
In the attic there are two bedrooms, each with a double bed and a sofa bed and a toilet with a sink
You can relax in the garden with a double sitting area, both in front of the house and in the back of the garden in a spacious pergola, where there is a whirlpool with a roof, a swimming pool and a luxurious gas and wood grill.
Fishermen who hold a national or regional permit can enjoy themselves at the river Želetavka, which is directly in front of the cottage
Other fishermen have the opportunity to fish on the Vranov dam
In the nearby village Dešná there is also the possibility of sport fishing
At the request of our guests we can arrange horseback riding and for lovers of sweets we offer a visit to our family confectionery company in Police, where they can taste various confectionery products
A sweet gingerbread will be prepared for each of our guests as a thank you for visiting.
Accommodation in the Cottage
Bedrooms and rooms: Living room with sofa, LED TV and walled fireplace
Three bedrooms, each with a double bed and a sofa bed.
Sanitary facilities: On the ground floor bathroom with bath, shower toilet and washing machine
In the attic toilet with sink.
Heating: Heating with both gas and solid fuel fireplace.
Transportation, parking: Parking by the accommodation facility.
Dining
Own in equipped kitchen, shop on site, restaurant 7 km in Jemnice.
Cottage furnishings
Kitchen - kitchen with ceramic hob and electric oven, dishwasher, refrigerator, microwave, kettle and complete dishes
In the object TV, WiFi.
Accommodation / rental price list
Show exchange rates for CZK Hide exchange rates for CZK
capacity 0 to 10 people - 3 bedrooms
minimum length of accommodation:0 nights
Prices per week
Winter season: 21000, - CZK per Cottage.
Summer season: 21000, - CZK per Cottage.
Off season: 19000, - CZK per Cottage.
Weekend price
Winter season: 7500, - CZK per Cottage.
Summer season: 7500, - CZK per Cottage.
Off season: 7500, - CZK per Cottage.
We do not rent
free objects on New Year's Eve
Availibility, fees, price specifications
Operation: all year round
The price is always for the whole object
Price for 1 night 3 500, - CZK
The price includes: parking, water consumption, electricity, municipal waste collection, charcoal and wood to
fireplace.
Price does not include: final cleaning
Each client passes the object back tidy
Deposit for the stay 50% of the price by transfer to the owner's account within 10 days and additional payment 10 days before the start of the stay, but no later than upon arrival
A refundable deposit of CZK 3,000 will be paid upon arrival
In the season July - August only weekly stays from Saturday to Saturday
Arrival from 2.00 pm, departure until 10.00 am
Out of season arrival by agreement
At the end of the stay, clients return the object as it was taken over
At the end of the stay, it is necessary to perform the final cleaning (cleaning means are available), for non-final cleaning, the landlord has the right to bill for cleaning in the amount of CZK 1,000.
Equipment overview
Surrounding area of the Cottage:
fenced garden
parking
garden surroundings
grassy surroundings
close to stream / river
Entertainment options:
nature swimming
open air swimming pool
bicycle trails
horse riding
fishing
playgrounds / sport fields