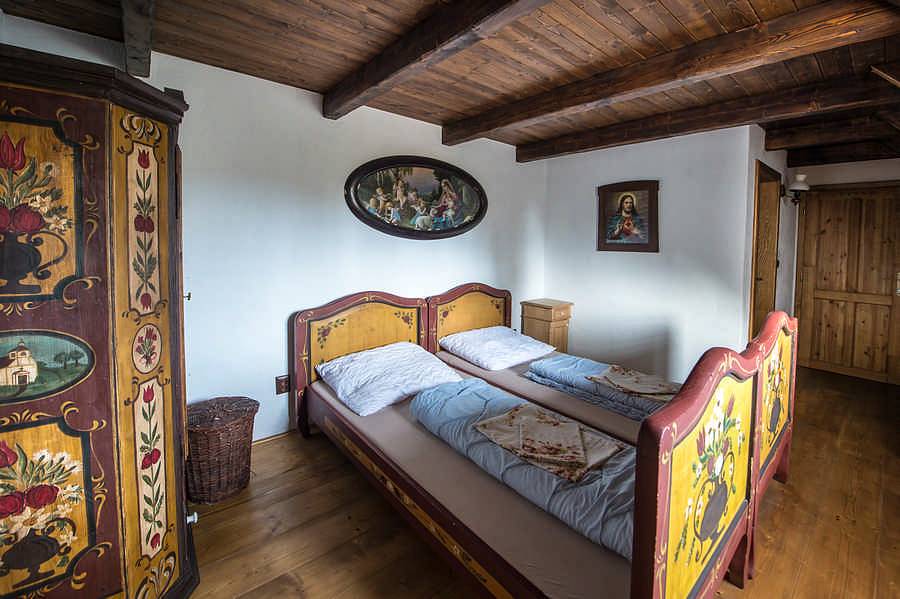 A new wooden, stylishly equipped cottage near the forest and two ponds in the village of Doubice, 4 km Krásné Lípy in the National Park České Švýcarsko
All information and ONLINE RESERVATION at www
Log cabins
Czech
Equipped kitchen (dishwasher, 2x glass ceramic hob, el
oven, 2x refrigerator, 2x microwave oven, electric kettle, coffee machine, kitchen
dishes) is part of a common room with a tiled stove, a stove for lying down, a smart TV and seating for more than 20 people
The cellar with an automatic tap and seating for approx. 18 people is equipped with a bar and a smart TV
Each room has its own bathroom with shower and toilet, electric kettle
Summer terrace with seating for min
20 people and a view of nature, it is equipped with a fireplace and an outdoor Weber grill
Heating in the cottage is combined (tiled stove with distribution to the entire cottage, el
boiler for floor heating
There is an automatic washing machine
You also have a tiled stove with a heated peasant stove for lying down!!!
Parking at the building is provided along the access road
Possibility to store bikes, skis, etc
in the dance hall.
Accommodation in the Cottage
Bedrooms and rooms: A total of 7 stylishly furnished rooms, of which 4 rooms are apartment type, i.e. 2+2. One room for 5 people with a beautiful hambalka for 2 people
Part of the cottage is also a beer hall with a tap and cooling.
Sanitary facilities: Sanitary facilities in each of the 7 rooms (toilet, shower, sink, washing machine)
Heating: Electric boiler, Air-water heat pump, Tiled stove with heat exchanger.
Transportation, parking: Parking at the building.
Dining
7 year-round restaurants.
Cottage furnishings
Internal:
Main common room 8x8m with kitchen and seating
Brasserie
Bicycle storage/children's corner
External:
Outdoor terrace with grill
Volleyball grass court 30x15m
Garden house with a slide
Parking
Accommodation / rental price list
Show exchange rates for CZK Hide exchange rates for CZK
capacity 0 to 24 people - 7 bedrooms
minimum length of accommodation:3 nights
Prices per night
Winter season: 6.490,-, - CZK per Cottage.
Summer season: 6.990,-, - CZK per Cottage.
Off season: 6.990,-, - CZK per Cottage.
7990, - CZK
At least a week stay, or by appointment..
www.roubenkydoubice.cz.
Availibility, fees, price specifications
RESERVATION ONLINE at www.roubenkydoubice.cz
Year-round operation
New Year's Eve stays
Christmas stays
The listed prices do not include electricity consumption
energy (5.85 CZK/kWh), water 100 CZK/day, firewood (150 CZK/bag) and recreation fee to the village 19 CZK/day/person
Actual consumption billed after departure to debit the deposit.
The price of only weekend stays (only 2 nights) is charged as a 3-night stay and can therefore be used that way, i.e.
for 3 nights
The reservation is made against the payment of a deposit of 50% of the rental price
Cancellation of the stay with a refund of the deposit is possible up to 6 months before the start date, or if the date is occupied by another applicant for the stay.
A REFUNDABLE deposit of NOK 5,000 is required
Equipment overview
Outdoor equipment:
terrace / deck / patio
garden furniture
fire pit
grill
sandbox
jungle gym or other children's play equipment
Surrounding area of the Cottage:
parking
garden surroundings
grassy surroundings
close to forest
Entertainment options:
bicycle availability
nature swimming
bicycle trails
horse riding
tennis courts
golf courses
playgrounds / sport fields