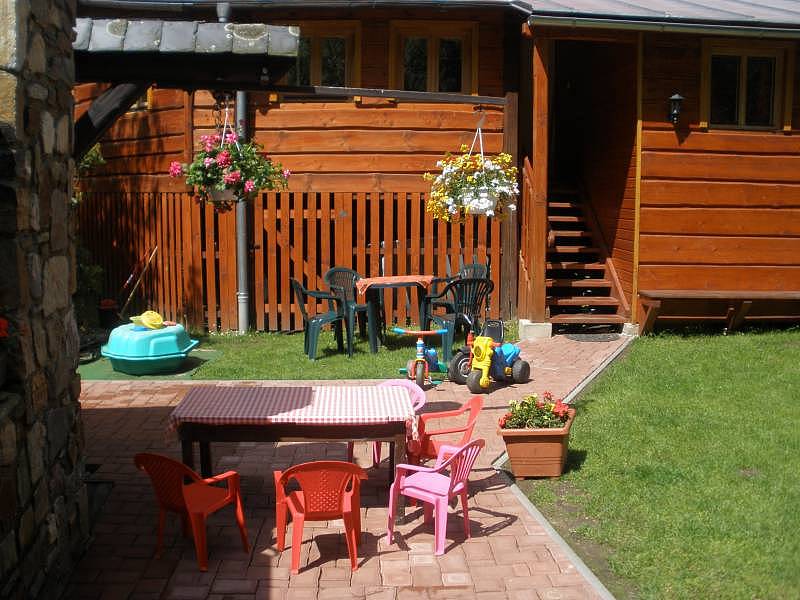 Cottage by the forest with a garden, where we think of the well-being of children and their parents
The garden is adapted for families with small children and has elements for their safe movement, a fence around the pool, gates at the entrance to the stream
Completely fenced and flat garden
The cottage has 4 separate (separate) bedrooms, 2 bathrooms, 3 toilets
Ideal for 3 families, a group of friends or couples up to 10 guests
Washing machine dishwasher
Infra sauna - use included in the price
WiFi internet connection included in the price
If you decide to visit the cottage in the picturesque village of Hostice - Pusta, you should expect a cottage that is newly renovated in a quiet place, surrounded by forest and nature, in winter near the lifts and cars to the cottage
The fenced garden behind the cottage is a wonderful place with absolute privacy, which invites you to relax
The garden, which is equipped for children, also lines a mountain stream, the entrance to which is equipped with a gate for the safe movement of children.
The modern kitchen has an entrance and views of the entire garden and woods
The most used place not only on colder summer evenings is a covered pergola with a fireplace, where you will not be surprised by bad weather.
The pergola is equipped with electricity
light
In summer you will appreciate the lovely place full of greenery, among the forests
Garden equipment - swing, trampoline, sandpit and slide for the little ones, ping pong table, Russian skittles, swimming pool, but above all COVERED SITTING WITH FIREPLACE, barbecue grill, which you will definitely use intensively.
Accommodation in the Cabin
Bedrooms and rooms: Living room with fireplace, kitchen
Bedroom - in the attic 1 x 3 beds,
Bedroom - in the attic 1 x 3 beds and 1 x cot (160 cm)
Bedroom - on the ground floor 1 x 3 beds and 1 x cot (160 cm) - barrier-free, including a sink,
Bedroom - on the ground floor 1 x 2 beds and 1 x cot + shower + toilet
The sum of beds does not mean capacity, it is possible to use the bedroom according to your requirements.
Sanitary facilities: AND
Bathroom with shower + toilet + washing machine - barrier-free
II
Bathroom with shower + toilet
III
Washbasin cabinet in the ground floor bedroom (hot and cold water)
IV
Separate toilet + sink in the attic.
Heating: Electric - storage heaters - cheap rate for electricity
Fireplace in the living room with distribution to all bedrooms and bathrooms - for additional heating.
Transportation, parking: In winter you will definitely like to use the possibility without problematic access and parking directly in front of the cottage for you 3-4 cars.
Dining
Well-equipped kitchen including dishwasher and as a bonus, beautiful views from the kitchen to the garden and forest ..
Shops - 1 km, Pub - 2 km, Buffet - in winter on the lift.
Cabin furnishings
Dishwasher, washing machine, 4 ring electric stove with baking el
oven, microwave oven, electric kettle, refrigerator, TV set 2 x, fireplace, children's dining chair, cot, children's play area
Outdoor equipment:
Swimming pool, trampoline, slide, table tennis, table-skittles, swing, sheltered seating, outdoor fireplace, grill, sitting, fenced garden.
Accommodation / rental price list
Show exchange rates for CZK Hide exchange rates for CZK
capacity 2 to 10 people - 4 bedrooms
minimum length of accommodation:2 nights
Prices per week
Winter season: od 12 000, - CZK per Cabin.
Summer season: 24 000, - CZK per Cabin.
Off season: 14 000, - CZK per Cabin.
Weekend price
Winter season: od 6 500, - CZK per Cabin.
Summer season: 6 500, - CZK per Cabin.
Off season: od 6 500, - CZK per Cabin.
New Year´s Eve
32000, - CZK
from 27.12 - 2.1.to 10 guests.
New Year's Eve relaxation with infrared sauna and cheaper skiing. Cottage under the forest, where you can spend relaxing days with friends or family in peace and warmth.
Availibility, fees, price specifications
The price is set individually, but always for the entire building (according to the completed booking form), taking into account the requested date, its length and the number of guests
In the summer holidays, only weekly stays (Sat - Sat) for a fixed price
Operation all year round
Possibility of accommodation for the weekend
New Year's Eve stays
Christmas stays
Cottage rental in low season from Sunday to Friday at very reasonable prices, suitable for a smaller number of guests
Bed linen is not included in the price (possibility of own or for a fee)
1 dog of a smaller breed is allowed for the stay, for a fee - by prior arrangement
Power consumption
energy is paid extra according to the valid tariff - mostly cheap rate (I will tell you the approximate consumption on request)
A deposit is required upon the start of the lease - a principal of CZK 2,500 in summer and CZK 3,500 in winter, which is returned upon departure after deduction of electricity
Upon departure, the customer will perform basic cleaning.
Equipment overview
General:
pets allowed
wifi, internet
non-smoking interior
common room / lounge
baby cot available
barrier-free accommodation
Indoor equipment:
fireplace / stove top
indoor terrace / winter garden
TV
kettle
microwave
fridge
dishwasher
washing machine
shower
sauna or infrared sauna
Outdoor equipment:
terrace / deck / patio
outdoor swimming pool
outdoor fireplace
garden furniture
fire pit
grill
sandbox
swing
trampoline
jungle gym or other children's play equipment
Surrounding area :
fenced garden
parking
Cabin secluded area
garden surroundings
grassy surroundings
close to stream / river
close to forest
Entertainment options:
nature swimming
open air swimming pool
bicycle trails
horse riding
tennis courts
fishing